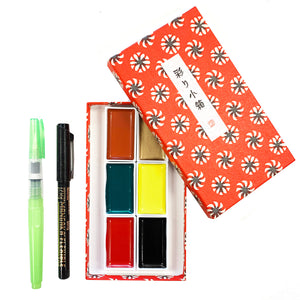 This watercolor gift makes a wonderful gift to yourself or a friend. Use it to sketch ideas or plan out color combinations for your next fair isle sweater.
High quality, hand crafted  Gansai Tambi watercolors from Japan in a beautiful travel box. 
Each set contains 6 pans of Gansai Tambi watercolor paint,  a Mangaka fine point brush pen and a medium Zig water brush. 
Contains Rose Madder, Lemon Yellow, Burnt Sienna, Viridian, Indigo, and Gold paints.